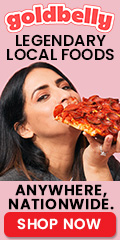 1.50%
Loyalty Shopping Dollars
---
What is Goldbelly? It's a smile, an edible hug, a connection, a memory, and a cure for your craving of a beloved food memory. Goldbelly encourages restaurants and small food makers to ship all over the US so you can recreate a meal of your dreams wherever you are today.
---
Conditions
New customers earn 6.25% cash back, existing customers earn 1.5%.
Percent Off Coupon
Gino's East (iconic Chicago Deep Dish Pizza): Buy 3, Get 2 Free now through June 14th!
06/14/2021
Percent Off Coupon
Veselka Grilling Pack for 8 (NYC Ukrainian food icon): 20% off now through June 30th!
06/30/2021
Loyalty Shopping Dollars Stats
| | |
| --- | --- |
| Pending within: | 26 minutes |
| Available to spend after: | 30 days |